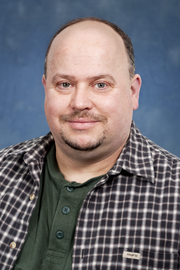 Research Assistant 4
AAS, Medical Laboratory Technician, State University New York

Mailing Address: SOM E552A
10900 Euclid Ave
Cleveland , OH 44106-4970

Phone: 216-368-4766
Fax: 216-368-5586
gerald.babcock@case.edu
Work/Research Focus
I serve as Lab Manager (RA-IV) for Dr. Boron's lab. I provide purchasing support for all the lab members, including research and acquisition of new equipment and support/calibration of existing equipment. I act as RSO and safety officer which includes arranging appropriate safety training for new and existing lab personnel. I assist with upkeep and maintenance of the equipment in lab as well as The Mouse Physiologic Phenotyping Core (MPPC). Administratively, I actively support the grant writing process; which involves budget preparation and justification, animal protocols and justification. Additionally, I assist in writing and submitting protocols for IACUC and IBC approval which includes annual renewals.
In addition to my lab duties, I am responsible for maintaining the gas supply to the manifolds which supply Nitrogen and Carbon Dioxide to the Physiology labs and tissue culture rooms. I am often involved in troubleshooting equipment issues related to departmental instrumentation.
About Me
I have been employed by Case Western Reserve University for 16 years. I joined the Boron Lab in August of 2007 as Lab Manager when Dr. Boron moved his lab from Yale to CWRU. Prior to this I worked a brief, but satisfying period in the Laboratory of Dr. Jeff Schelling at MHMC's Rammelkamp Research Institute working on protein expression and regulation of NHE1 in proximal tubule cells. Prior to this I worked for several years in the laboratory of Dr. Michael F. Romero, Ph.D. at CWRU in the Department of Physiology & Biophysics. In the Romero lab, I used molecular biology techniques (PCR, Sub-cloning, etc...) to insert various cDNA's for transporter proteins into oocyte expression vectors. I performed survival surgery to isolate oocytes from Xenopus laevis frogs. I also synthesized and injected cRNA into Xenopus Oocytes for electrophysiology studies. I also performed microinjection on Zebrafish under Caroline Sussman, Ph.D. I originally joined CWRU in 2001 as a Lab Manager in the laboratory of Dr. Huntington F. Willard, Ph.D., Chair for the Department of Genetics at CWRU. Prior to CWRU, I worked as Department Manager and later Administrator for the Department of Molecular Biology at The Cleveland Clinic Foundation's Lerner Research Institute for 5 years. This was preceded by 5 years work as lab technician in the Neuroscience lab of Dr. Richard M. Ransohoff, M.D. & Ph.D.
My education includes a B.S. in Biochemistry in the Recombinant Gene Technology program from the State University of New York at Fredonia, New York (1988). I received an A.A.S. degree in Medical lab Technology from the State University of New York at Alfred, New York (1986). I graduated with a Regents Diploma in Math and Science from Wellsville High School in Wellsville NY (1984). I currently live in Eastlake, Ohio with my wife Shawna and our four Children; William, Nathan, Andie and Adam.
Related Links